The Sport Mechanic Bike Repair Stand prioritizes the most critical aspects of the entire Feedback Sports bike repair stand lineup – compatibility, stability, durability and portability. The 360-degree rotating clamp uses a spinner knob closure that can accommodate up to 1.9? (4.8cm) and support 65lbs (29.5kg). Plus, the Sport Mechanic leverages the same 54? (137cm) wide base, with rubber-coated end caps, for amazing stability on any surface. And when the service day is done, it folds in to a compact unit for storage or travel. Add an available Travel Bag and a Tool Tray for the optimal bike maintenance setup.
The Pro Elite Bike Repair Stand is the premier portable and home service partner for the most demanding bike mechanics. Its lightweight, compact, and durable design delivers unmatched stability, adjustability and portability. The patented ratchet-action closure and speed release clamp is capable of managing any bike frame, up to 85lbs (39kg) and tube diameter up to 2.6? (6.6cm). Be the most popular rider at the trailhead or in your neighborhood with the Pro-Elite Bike Repair Stand. Add a Wheel Truing Station, Bottle Opener and Team Edition Tool Kit for the ultimate service setup.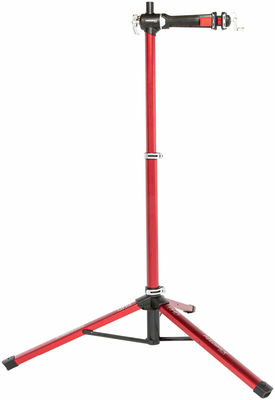 The Feedback Sports Pro Mechanic HD Bike Repair Stand is constructed with oversized, anodized aluminum tubes, a wide and stable base, stronger jaws, and faster closure. It features a working load range of 10-70lbs (max load 100lbs/45kg) and tube diameters to 2.6 inches (6.6 cm). Yet it's lightweight and portable at 18 pounds (8 kg) and 8" x 43" (21 cm x 115 cm) when folded for travel. - Oversized, anodized 6061 T6 aluminum construction is ultralight, corrosion-resistant and incredibly durable - Oversized knob to fix the position of a 360-degree rotating clamp, providing easy access to all parts of your bicycle - Strong clutch design holds bike at any angle for repairs: 45% greater grip than Pro Elite - New, ratcheting and rotating crank for jaw closure is faster and one-hand operable: closes 60% faster than Pro Elite - Clamp opening up to 2.6" (6.6cm) accommodates the largest diameter frame tubes - 3-year warranty.